THE BEGINNING OF THE HIGHER EDUCATION IN KORÇË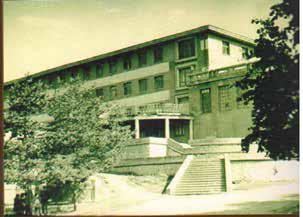 The beginning of the Higher Education in the town of Korça, started on the 15th of October 1968 when within the Evening High school was opened the Evening Filial of the 2-year pedagogical Institute, which began its preparations since the year 1961; it was mentioned for the first time as the consulting center, inside the High school "Raqi Qirinxhi", this school functioned as a consultative office for the students who attended the Higher School by correspondence. This consulting center continued its work until the year 1966.
The Evening Filial of the 2-year Pedagogical Institute functioned with four different branches of the pedagogical profile. They were: Language and Literature, Mathematics and Physics, History-Geography, Biology – Chemistry.
In the year 1969, there were opened two new branches of the economic profile in the Evening Filial. They were: Accounting and Agronomy branch. In the year 1970 it was opened the Mechanical Engineering branch.
The principals of the Korça Filial were:
Vangjel Nunka 1968 -1971
Thoma Lolo 1971 -1973
Guri Pandeli 1973 -1978.
There were 8 full-time pedagogues in Korça Filial. The number of the graduates from this Filial were in total 1151:
Accounting and Economic Branch – 227 students
Planning Economics Branch – 89 students
Mechanical Engineering Branch – 168 students
Construction Engineering Branch – 43 students
Pedagogical Profile branch – 574 students.
In August 15, 1974, the Korca Filial joined the Higher Agriculture Institute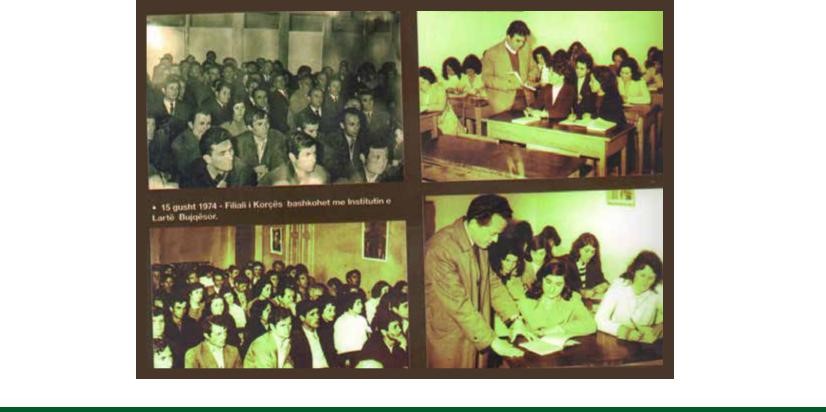 HIGHER AGRICULTURAL INSTITUTE (1971-1992)
On the 15th of June 1971, based on the decision of the Council of Ministers was opened of the Higher Agricultural Institute of Korça. On the 24th of June 1971, Mr.Nesti Pela was nominated as the Principal of the Higher Agricultural Institute of Korça, while on the 31st of July 1971, the first pedagogues were nominated at this new institution, among them we can mention Ilia Tili, Jani Frashëri, Kristaq
Kotonika, Liri Lubonja, Meropi Nake, Niko Face. In the framework of good progress in the teaching process, there gave their contribution some of the lecturers of the Higher Agricultural Institute of Kamza, Tirane, such as Aleko Xoxe, Robert Papajani, Estref Haxhimihali, Spiro Makoçi, Pavllo Koja, Agron Reka, Miço Panda, Qefqep Kambo etc.
There were 43 students who were registered in the first academic year.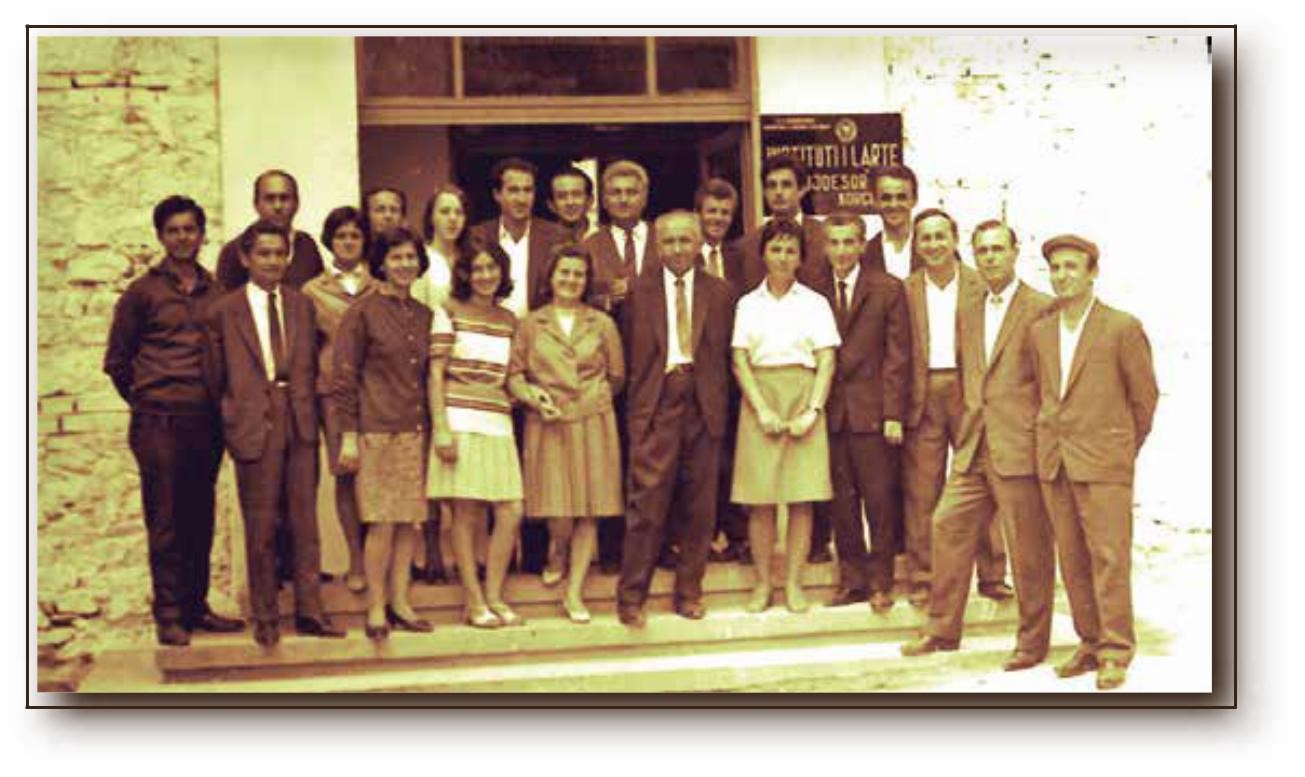 In January 1972, the branch of Agriculture, which was part -time, joined the Higher Agricultural Institute.
On the 22nd of August 1972, three new chairs were created in the Higher Agricultural Institute:
-The chair of General Culture Subjects, headed by Mr. Ilia Tili.
– The chair of General Subjects, headed by Mr. Kiço Kotonika.
– The chair of Special Subjects, headed by Mr. Kosta Kovaçi.
During this academic year, there were set up three new laboratories: one for organic chemistry, the second for agro-chemistry and the third for pedology.
During the academic year 1972-1973, there were 120 new students coming from different parts of the country. New academic staff were added to the previous one, some of them have been: Koci Joxhe, Gjergji Trebicka, Qirjako Minga, Piro Cepa, Pandi Balli, Alfred Mosko, Rafail Cicko, Dhimitraq Postoli, and part time pedagogues were: Dhimitër Maçuka, Stavri Kreshpanji, Niko Kreshpanji, Kozeta Minga, Nesti Çekani, Thoma Lolo, Eqrem Meçollari, Enver Vojkollari, Petrit Mançe.
On November 16, 1972, based on the decision nr.327 of the Ministry of Education, there was created the Scientific Research Council of the Higher Agricultural Institute, and its members has been: Nesti Pela (principal), Niko Face (secretary), Ilia Tili, Kristaq Kotonika, Kosta Kovaçi, Koci Joxhe (full-time members), Mihallaq Qirjako, Pandi Belba, Nesti Tërova (part-time members), and the students: Alqi Gurllari, Ilir Agastra, Njazi Bega, Maksi Gjata, Pavllo Barka, Miti Jançe.
During the academic year 1973-1974 there were new pedagogues becoming staff of this institution such as: Osman Thëllimi, Marika Pojani, Pandi Qeleshi, Zihni Selenica, Stavri Kreshpanji, Theodhoraq Marjani. There were 29 full-time academic staff altogether. On the 18th of December 1973 started the construction of the new dormitory of this institute and it was finished in the year 1974.
On March 13, 1974, there was organized the Research Association of the students for this institute. The first principal of this association was elected the student Maksi Gjata.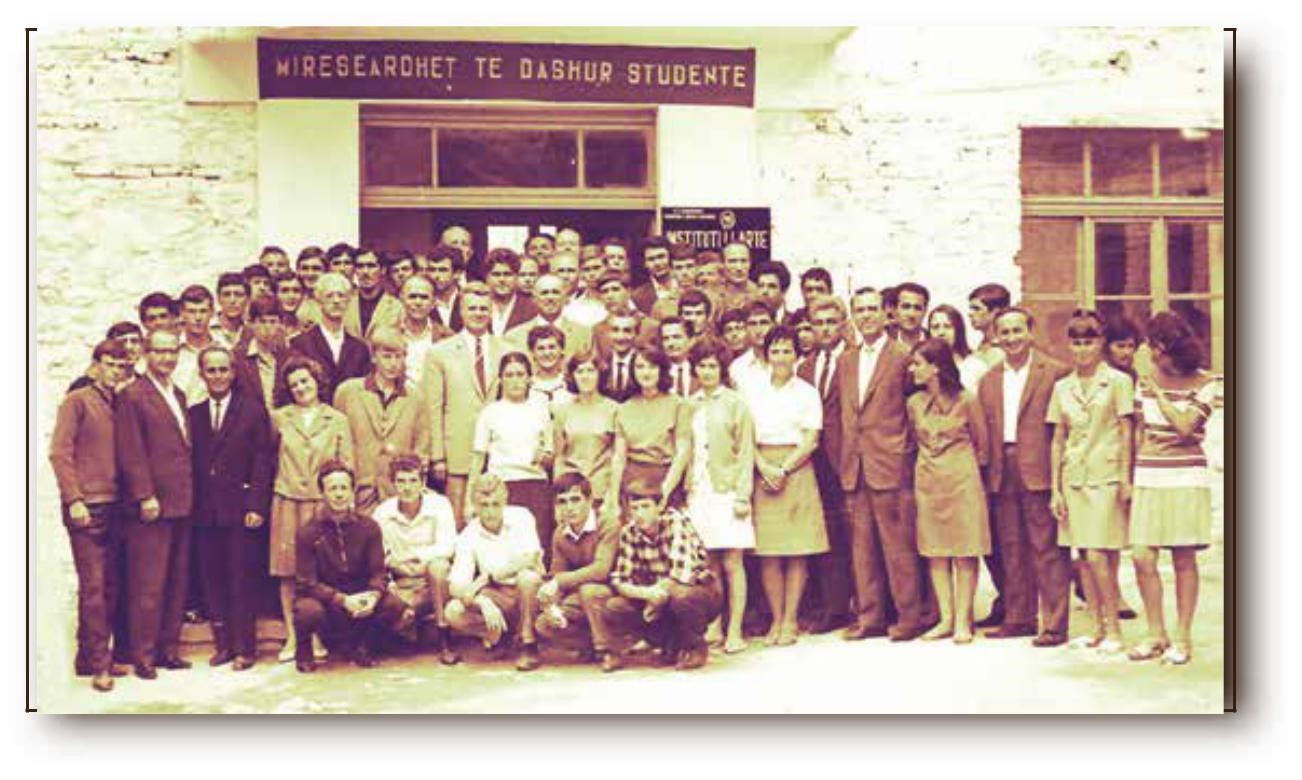 During the academic year 1974-1975 there were registered 88 students from the following districts of Albania: Përmet, Pogradec, Skrapar, Mat, Librazhd, Kukës, Gramsh, Ersekë, Korçë, Gjirokastër, Peshkopi etc. In September 1974, there were created two chairs:
a) Department of Marxist-Leninist subjects, headed by Mr. Osman Thëllimi.
– Department of agro chemistry, headed by Mr. Koci Joxhe. There were added four new laboratories:
– Agriculture Laboratory
– Laboratory of Phytotechnics
-Laboratory of Entomology
-Laboratory of Arboriculture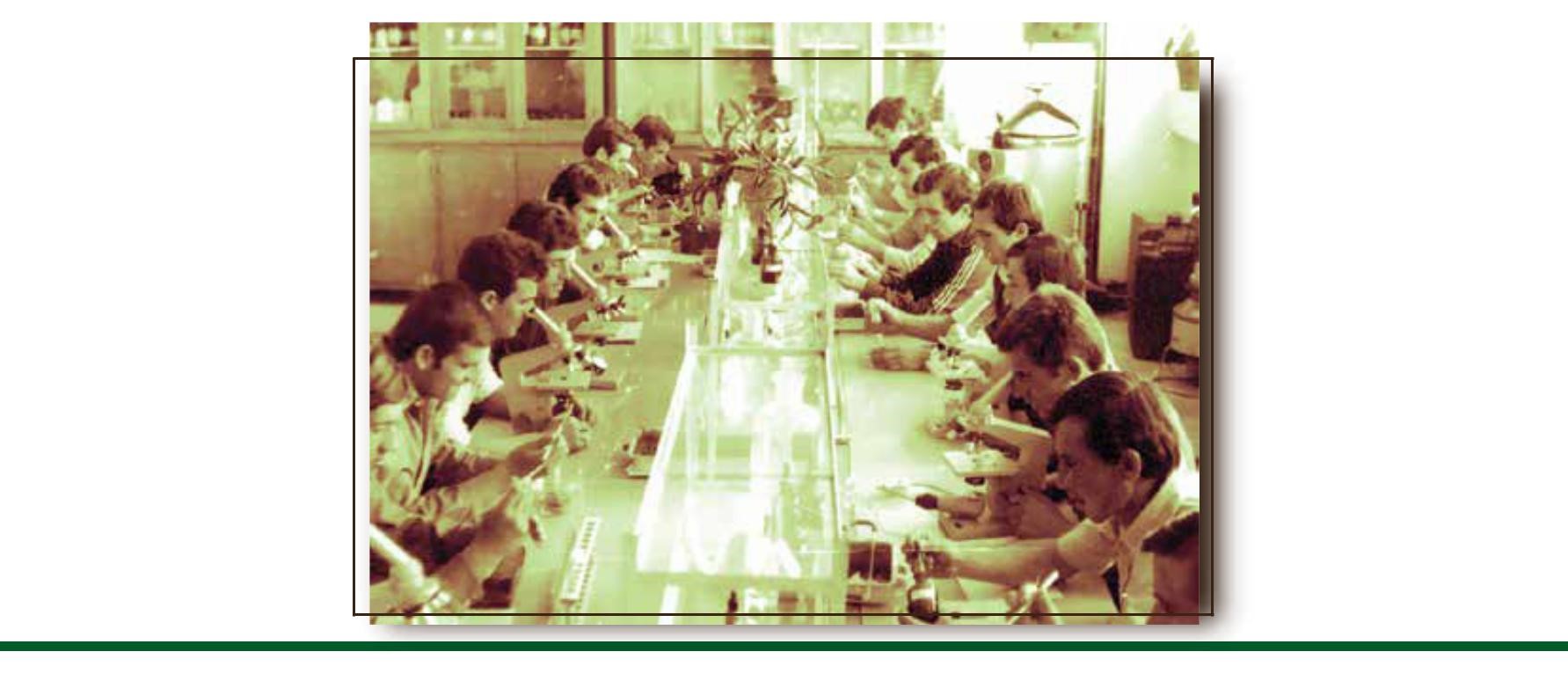 In the academic year 1975-1976 there were approved to learn in the first year 32 students, and three new members of academic staff: Fejzi Kolaneci, Skënder Sosoli, Mina Nune.
In the year 1976 we see the first 35 graduates from Higher Agricultural Institute of Korça. Starting from the year 1976 until the year 1990 from the Higher Agricultural Institute were graduated 1200 specialist for agriculture.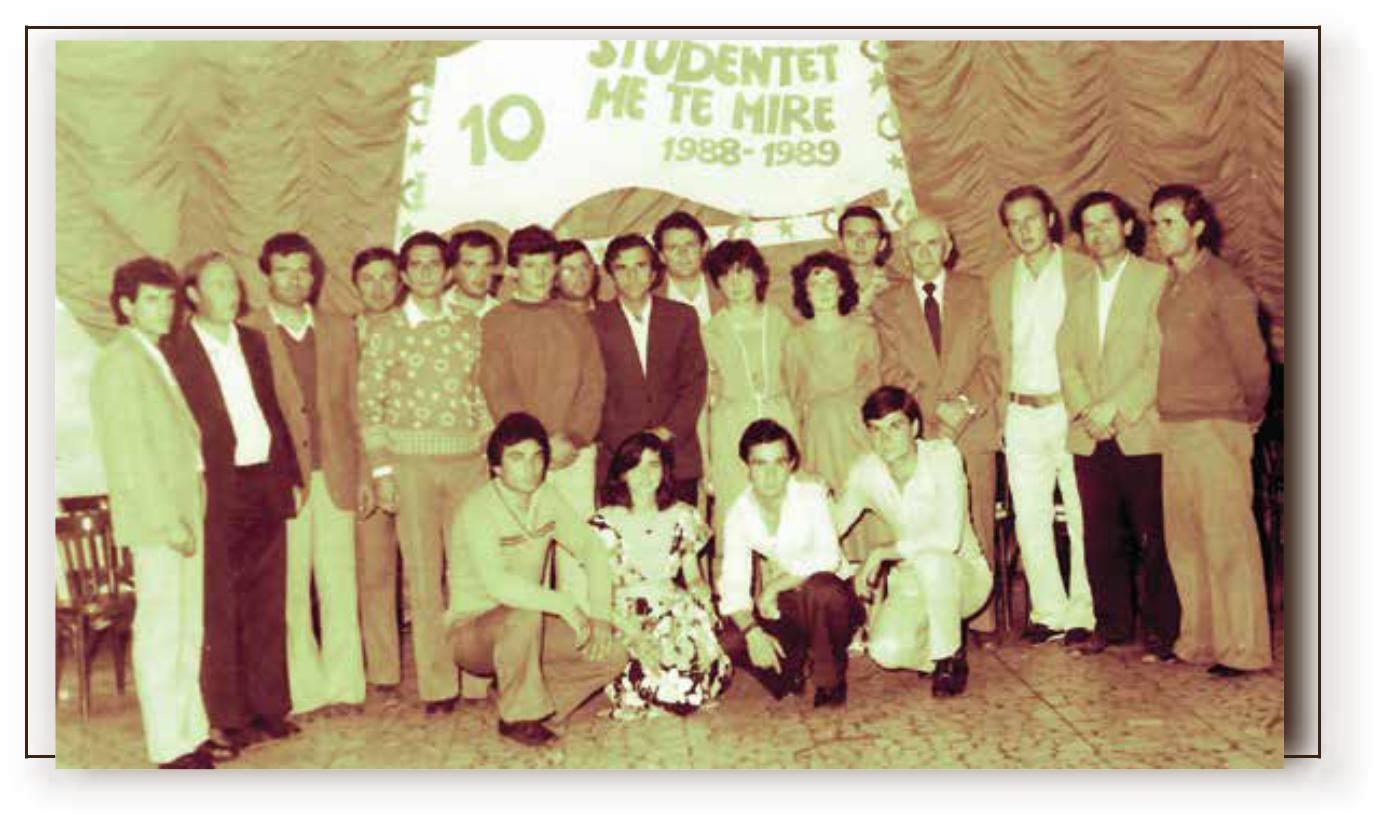 By increasing the number of the students, especially during the years'80 and on, we see a great number of the academic staff. They were: Evri Pepo, Aleksandër Qeleshi, Irena Kallço, Pandi Zallëmi, Thoma Qirjo, Valentina Dinella, Gjergji Çule, Kristaq Titili, Mira Zaimasi, Bashkim Jahollari, Dhimitraq Skënde, Elfrida Dhamo, Van-gjush Nikolicari, Agim Baçi, Spiro Gjançi, Svjetllana Trebicka, Edi Joxhe, Kozeta Mano, Ilir Manushi, Sitki Mullaj, Mimoza Shpata, Thoma Nasto, Thoma Plaku, Irena Nikaj, Irena Vangjeli, si dhe pedagogët ishstudentë të këtij instituti: Edmond Spahiu, Maksi Gjata, Gjergji Mero, Niko Roshanji, Ilir Mehmeti, Rahmi Memetllari, Robert Naçi, Irini Qëndro, Robert Damo.
Actual Academic Year:
2-YEAR vocational PROGRAMS
Infancy and early childhood education
Communication, library and archive office assistant
Veterinary Management
Techniques of seed and seedlings production
Social Service
Assistant Manager
First cycle study programs:
Philosophy – Sociology
Mathematics – Physics
Mathematics – Informatics
Biology- Chemistry
Information technology
General nurse
Midwife (nurse)
Administration and Social policies
Language and Literature
English Language
French Language and Literature (second and third year)
History – Geography
Preschool teachers
Business administration in Marketing
Business administration in Tourism
Finance and accounting
Management
Business Informatics
Economics
Business and commerce
Agro-nutrition
Agribusiness management
Plant medicine and Horticulture (third year)
Modern Telecommunication Systems and Internet Technologies
Nursery
Public Administration
Primary education teachers
Finance – accounting
Business administration
Marketing
Tourism
Bank and Insurance
Integral rural development
Food quality and safety
Agrarian engineering, profile horticulture
Second cycle study programs "Master of Science" and "Master" in Teaching
Social Philosophy
Teachers of Mathematics, Informatics and Physics
Teaching biology – chemistry
Teaching Social Sciences
Media, Culture and Editing
Teaching primary education classes I-V (second year)
Teacher of English language
Teacher of Albanian language and Literature
Teaching History and Geography
Finance
Third cycle study program in the field of Agriculture
PhD studies in Sustainable Horticulture
"FAN S. NOLI" university is composed of 4 faculties:
Faculty of Agriculture
Faculty of Education and Philology
Faculty of Economy
Faculty of Natural and Human Sciences
Faculties are organised in 14 departments and 2 teaching and research groups.
The University has a centre of excellence, as a basic research and training unit, whose mission is to provide training sessions on teachers of primary and secondary schools, as well as to prepare specialists in the field of education.
Part of the faculty of Agriculture is also DEE (The Didactic and Experimental Economy) which occupies 35 ha of land in the nearby area to develop professional practices of the teaching programs.
University of Korca has approximately 5000 students from all regions of Albania.
At the university "Fan S. Noli" teach 160 full -time pedagogues, 70 per cent of whom hold titles and scientific degrees. There are also a considerable number of invited pedagogues and professors.
University "Fan S. Noli" has a modern laboratory infrastructure, teaching auditoriums with video projectors, 4 libraries – one on each faculty, a Science library, over 300 computers with internet access, green free space etc. Every faculty has its own library, laboratories, suitable space for the development of professional practice. There are 120 seats for students to use the internet.
University "Fan S. Noli" has teaching facilities in 6 buildings, with an area of 12.423 m2, and green relaxing facilities in each of the buildings.
Today the University "Fan S. Noli" is the largest centre of education, culture and science in Korca region and beyond. It is involved in the European Area of Higher Education, and works hard to achieve the European standards.