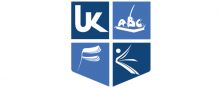 LIBRARY OF THE FACULTY
The library has a fund of 15 thousand books and magazines, with about 6 thousand titles, used by students and professors of this faculty. About 3 thousand books and magazines from the library, are in foreign languages (mainly English, French and Italian) and around 12 thousand in Albanian language.
Books and journals are classified according to the relevant departments and fields of study. This library offers different kinds of books, mainly scientific and artistic books which include a wide variety of themes. In general, there are books on linguistics, literature, history, geography, psychology, education, scientific research papers, dissertations, magazines, newsletters, scientific bulletins etc.
It is managed by a qualified librarian who is trained to accomplish all his responsibilities.
The library, which also serves as a study hall, is equipped with computers, internet and heating system that help students read and study. They can also photocopy various library materials.
Library is frequented by full or part-time students, master degree students and pedagogues, not only to borrow books, but also to study there.
EVALUATION FORM OF LIBRARY & SCIENTIFIC ARCHIVES