SATELLITE AREA VIEW OF THE UNIVERSITY
The university is located in the north-eastern part of the town on "Gjergj Kastrioti" Boulevard. The university consists of 3 buildings housing administrative offices, lecture halls and classrooms. In addition, the university complex includes 2 dormitories and a sports field. Located near the town hospital it is the department of nurse.
A BRIEF HISTORY OF KORÇA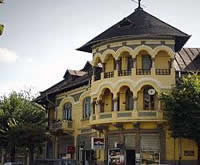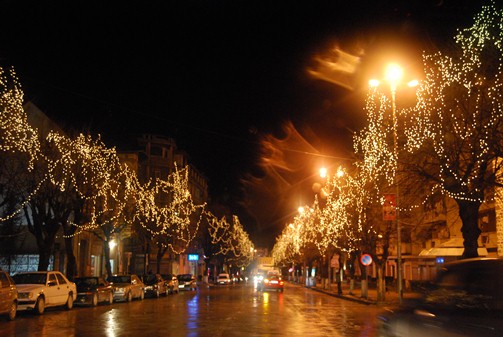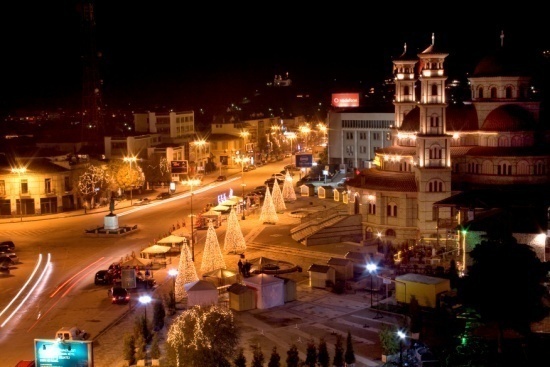 Korca is one of Albania's premier cities; it's the center of prefecture. Located in tribe southeastern region of the country, surrounded by the Morava Mountain range, the city is situated some 869 m above sea level, while the district sits just at 1145m above sea level.
The District of Korca expands the distance of 1752 km² and is bordered by Macedonia to the north and shares its eastern border with Greece. The climate in Korca is continental with cold winters and temperate summers. On average, seasonal temperature ranges from -3.2ºC to + 26.8ºC. According to the statistics of 1997 the District of Korca had a population of 194000, while the town over 80000. The earliest inhabitants of the region were the Enkelejte, an Illyrian tribe. The strategic location of Korca helped it to flourish into a notable city center much sooner than other developing settlements. With the establishment of the first school in Voskopoja during the mid 18th century, the Korca region gained its status as a national center of education and cultural heritage.
Continuing its traditions of cultural significance well into the late 19th century, Korca also grew to become one of the most economically developed regions in the country. During the Renaissance period, many scholars patriots took part in many cultural activities organized in Korca. As a result of hard work and a dedication to academic excellence, the first Albanian school "Mesonjetorja e pare shqipe" was opened in March 7th 1887. Then in 1893 the first girls' school was founded and in 1917 French Liceum was opened. In December 10th, 1916, Korca was proclaimed an autonomous region.
For visitors coming to Korca nowadays, their welcome to enjoy various parks and green spaces, fresh air and roads made of stone.  Visitors can also enjoy the Medieval Art Museum and the Museum of the First Albanian School (Mesonjetore).