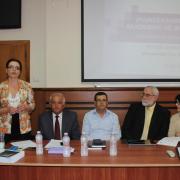 On June 10, 2016, there was organized a roundtable on the topic "Academic (dis|)honesty in Albania and concerns about plagiarism", organized by the Institute for Democracy and Mediation, Tirana and the University "Fan S. Noli" of Korça. 
Në këtë tryezë parashtruan idetë e tyre Prof. dr. Bardhyl Musai, pedagog në Fakultetin e Shkencave Sociale të Universitetit të Tiranës,  Dr. Roy Alden Atwood, Abraham Kuyper Distinguished Professor, si dhe Msc. Besfort Lamallari nga Shoqata e Kërkuesve të Rinj.
Pastaj pedagogë dhe studentë të Universitetit bënë pyetje dhe shfaqën opinionet e tyre rreth çështjeve të trajtuara nga referuesit kryesorë.
English